What's going on with BTC-USD?: Bitcoin Price Analysis
Here's a bitcoin price analysis for all those out there that are scratching their heads asking themselves, "what's going on?"
What's Happening with the Bitcoin Price?
These two candles that I circled there represent the candles for the last two days. As you can see, these are HEAVY red candles. However, the position of the two candles in relation to each other is something that must be considered. This is a bit of Heikin Ashi theory that we don't hear thrown around the community too much; shadows.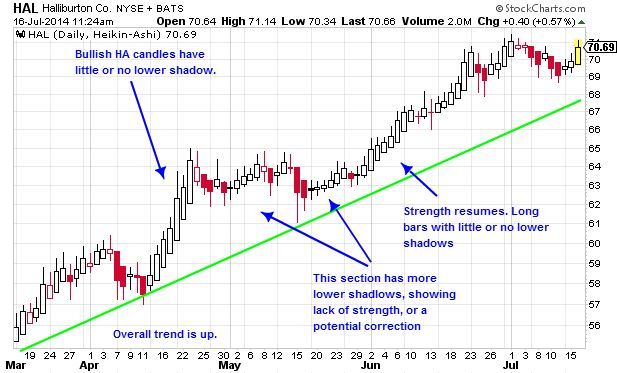 Source: http://traderhq.com/how-to-trade-with-heikin-ashi-candlesticks/
Notice the thin line coming out the bottom of those red candles? That's a 'lower shadow.' Typically, if you're in a downtrend and looking for symptoms of potential exhaustion, you want to see if there are any upper shadows occurring. In this case, there are not.
This is crucial for any and all traders that are looking for good entry and exit points and are looking to get more definitive signals on whether a trend is still occurring or if it is dead.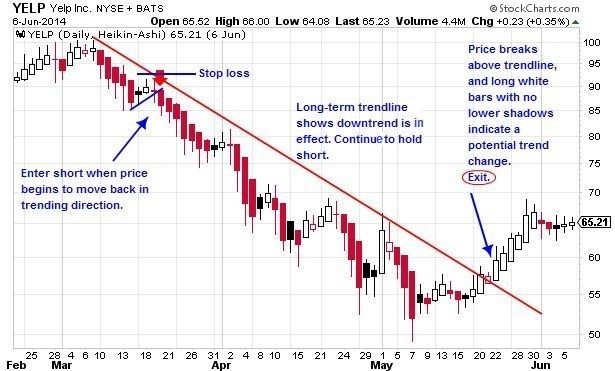 Source: http://traderhq.com/how-to-trade-with-heikin-ashi-candlesticks/
This is why drawing trendlines are crucial. we will get into the trendlines a bit later when we have some time. But for now, this should be a fairly solid lesson on the importance of looking at the candles and seeing what they reveal.
These bars are also very decisive. Typically, indecisive bars will have lower and upper shadows. These bars do not. The candles are also huge too, which shows heavy downward pressure and rapid movement too.
Thus, based on the candlestick analysis alone, one should expect the downward pressure for bitcoin to continue for some period of time.
However, just looking at the daily charts is not sufficient. We need to go in a little deeper and check out what the chart looks like from the 8-12 hour perspective to get a better idea of what's going on.
Why?
It's good for you to check this out to see if there are any underlying trend reversals that are manifesting themselves in the chart. Sometimes there are movements in the price that are not yet reflected by larger chart times. However, when the candlesticks are this deep, it's doubtful.
As you can see on the 8-hour chart the candlesticks look just as ugly.
Given these facts, we can already be fairly certain about most indicators. However, there is one that the author wants to look at a bit more in depth, and that is the accumulation/distribution indicator.
The accumulation/distribution indicator looks grizzly as well, and this is still on the 8-hour chart here.
Here's how this indicator works; as the line moves north, accumulation (people buying and holding) is increasing. As the line moves south, people selling (AKA dumping) is increasing. As you can see, the amount of people that are dumping this coin downward is accelerating; somewhat rapidly at this point.
Another note; while the author was typing up this analysis, the price banged on $6,000 and jumped right up to $6,400. We should mention that the lower shadow on the 8H candle developing was nearly ten percent lower than the close of the candle itself, which is fairly profound selling pressure.
So What Can We Expect?
A few things:
The chart above displays the MACD indicator on the 8-hour timeframe. Based on what we see here, that MACD can easily continue moving further south before hitting the 'oversold' points that we've seen in the last six weeks. According to the chart, we've seen lower MACD values on December 24, 2017, and January 17, 2018, and neither of those were followed by sharp increases in price at all. Here's another look at the MACD with the price behind it:
Each preceding spike in the MACD after hitting this level was followed by a 25 percent price increase followed by a continuation of the downtrend, effectively making this the signal of a bear flag.
Another thing to note is that the MACD is quite a distance underneath the Histogram and has remained consistently underneath the Histogram for quite some time now.
Check out the Fibonacci (or Fib.) chart for bitcoin (8-hour):
The author drew this Fib. chart using the price of $1,868 as the start of the price action and $19,600 as the peak. Thus, this is a chart that is fairly generous to bears and not the bulls.
Looking at this chart, I'm having a hard time rationalizing a drop below that 78.6 percent Fib. level (this would be 100 percent retracement on charts that use the $6,000 mark as the beginning of the price action).
There are a few reasons for this:
That $5,500-$6,000 market has already been tested several times already, and the bitcoin price has spent more time there than it has at any other level above it ($7,000, $8,000, $9,000,… $19,000).
A break south of this means a free fall to $2,000. The author personally believes between the Winklevoss Twins and other seriously interested parties in bitcoin; this price drop will be impeded by the fact that there are too many individuals "hodling" and accumulating the coin itself. Ask around the community, and there many believers that would happily buy a bitcoin for $5,000.
It's a Fib. level, so the price must break cleanly through. All indicators are nearly "maxed out" so price movement further south means that bitcoin is at its "most bearish." Typically when the price has been depressed too far, a dead cat bounce or correction upwards is due.
Future predictions?
We predict that the price of bitcoin will continue to jump around the $6,000-$8,000 level for the next few days or weeks with the occasional trip below $6,000 and above $9,000/$10,000.
We would be thoroughly shocked if it breaks all the way through that Fib level. If that happens, you'll have to set your sights on $2,000.
Like BTCMANAGER? Send us a tip!
Our Bitcoin Address: 3AbQrAyRsdM5NX5BQh8qWYePEpGjCYLCy4